100% satisfaction guarantee
To Dogsie we always choose products that we buy for our dogs and we guarantee their quality. These are not just empty words for us – you will either be 100% satisfied or we will refund your money back! If Dogsie doesn't inspire you, simply contact us and we will arrange a refund.
Discover new, quality products
Every month we carefully choose interesting toys and healthy treats that will complement your dog's nutrition and reward him. You'll love them! In the case of allergies, we will be happy to customize your package.
With Dogsie you can help with the problems of dog breeding and overcrowded dog shelters. From each package we donate 20 % of earnings to help dogs in need.
Don't waste time by shopping in stores. Unpacking Dogsie is more fun and we will send it directly to your home. If you wish, you can also pick up the package from the nearest Pickup Point.
250+ satisfied owners have already raised their paw for Dogsie. Read their reviews on our FB.
With our subscription, your dog will have Christmas every month and at the same time you will regularly support dogs in need. In addition to long-term subscription plans, you can now choose a gift or 1 package completely for free!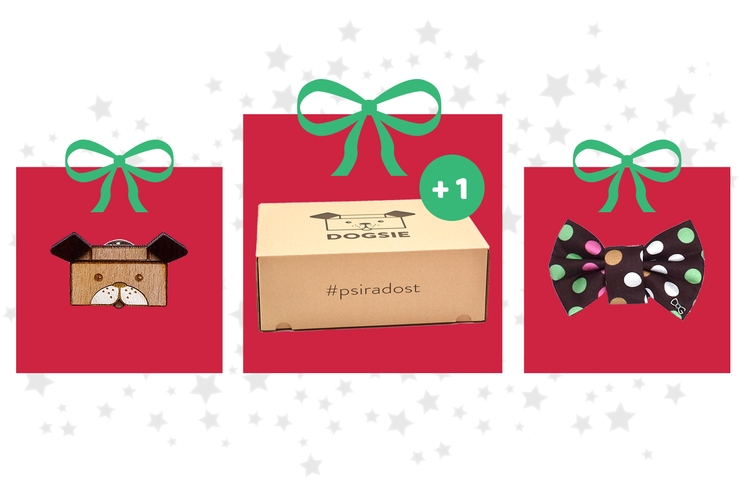 Choose the size of your doggie
Tell us how big he or she is. We have treats for all sizes.
Just trying or want to have subscription? Everything is possible with us.
We send dog joy every month. Woofsome!
We bark for a good cause

Every single package helps
We choose our partners (dog shelters, non-profit organizations etc.) very carefully. Then we help together.

In 2019, HumbleWood s.r.o. gained support from the European Structural and Investment Funds, implemented through the Operational Program Prague - Growth Pole of the Czech Republic and drawn through the first round of the Specialized Vouchers (reg. no. CZ.07.1.02 / 0.0 / 0.0 / 16_027 / 0000607).
The support was used for the Dogsie advertising video in Prague to create a story that describes the dog and his owners enjoying the joy of life enriched with Dogsie products. The expected output is approximately 1:50 min long video spot. The project is co-financed by the European Union.